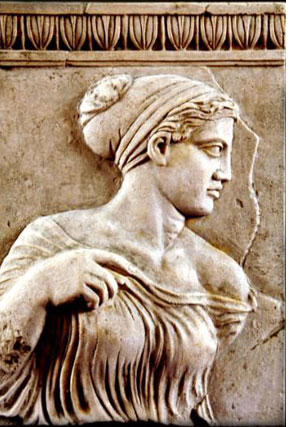 Hi, Laura.I recently got engaged, and through this engagement God has been opening my eyes to a lot of sin in my life. I'm overwhelmed by the number of idols I see in my heart. The one I am battling with most to gain a godly perspective on is working out. I want my fiance to think I am beautiful; I want to please him. I know this is not a struggle that has just all of a sudden come up. I have struggled with wanting to have a perfect body, with wanting to have a perfect image for some time now. I know that working out in itself is not sin, but my reaction to it is sin, because I place too much of my security and too much of my identity on how I look and how good my fiance thinks I look. He is a godly man, and he has told me countless times that what attracts him to me most is Christ in me, yet I still struggle with a standard of beauty that I create for myself in terms of weight. I enjoy working out; I want to be healthy, but more than anything I want to be a godly wife who finds her all in Christ. In order to do that, I know in my head I need to be hard on any sin God reveals, but my wicked heart wants to justify this sin by telling me I only have a few months to get in tip top shape before the wedding. Any advice you have would be greatly appreciated.
Reply: Oh my friend! Sit down here, next to me a sec...Let me hold your hand tightly. You with me? I'm lookin' at ya - lovingly - eye to eye, heart to heart - girl to girl...It's okay I call myself a girl still, right? I'm 41 - and like you, I battle with the way I look and I will continue to fight for health and beauty that will sustain this shell - not just for my man - who still reaches for me after all these years - but for my babes, who at 10 and 8 look up to me - and still want to be held on my hip - even if just to make them laugh - and a goood laugh we all have!!! AmenandAMEN on for my hip held babes at 41! ANYWAY, we'll get to workin' out in a minute...
First things first - CONGRATULATIONS!!! How exciting that you have found a mate for life!!! What a beautiful gift from God! A mate for life my friend!!! One that you will laugh with! cry with! spend hours upon countless hours growing old, growing wise, growing more in love with!!! One that you will see the world with, and one whose life you will witness - and one who will in turn witness your own...A help mate! Never again will it just be you and God, but you and God and your mate. A man that you will have to love, more than you love yourself! One that you will have to forgive more than you have ever forgiven anyone or anything! One that you will have to embrace when you do not feel like hugging! One by whom you will honor God - in every act of submission - in every "yes" that you would rather be no's, of your giving when you would rather withhold - and witholdings when you would rather let him have it....
Congratulations, my friend! You will learn to ignore dirty socks, bad breath, messy toilets, and all before the night air of romance, and candles, and perfume rests on your pillow. You will learn to sit beside him in vomit, either your own or his - along with debt, due dates, and job hunts or job burdens. You will learn to deny your own desires so that he can have. You will enjoy moments so delirious with stress that prayers will overflow from tears, and you won't be able to discern whose tears belong to whom. You will want to know his pain, not just his physical pain - but his spiritual pain. And you will want him to know yours, and then you will learn only God can feel it and take it for either of you. You will want for him to realize your every dream, and facilitate it - moment by longing filled moment, and then you will come to understand by struggle or maybe - by some chance- you will learn this by ease, that only God was meant to bear the burden of your dreams, and for God alone - that burden is great Joy. Congratulations sweet girl, you have chosen to embrace a man for life....One that you will have to feed more than food, more than water - but one that you will get to feed the Word of God as he comes alongside of you for encouragement, hope, strength!
Congratulations on finding that one person whom God will use in your life, not only to encourage you in what it looks like to love without condition - but also to sharpen you with stone and steel for what it looks like to live in skin filled by Jesus. Congratulations on having the courage to enter a refining pot that is a fire unlike any other furnace, challenge or race you will ever know or want to know. It is a journey toward holiness that only God can secure, that only God's Word can bless and fortify. And oh HOW He does it!!! And oh HOW does He do it? Marriage is a marathon that few finish, be it because of pain, boredom, stress, lack of luster, creativity, self discipline, lack of loyalty - or simply just because it wasn't what they thought it was going to be...I can promise you this my friend, as I have run this course now for 13 years, I have never longed for God more, and have never seen Him so beautifully, and I haven't had to look far for Him either - only to my side where my spouse runs beside me - holding tightly to the hand of our God. Yes.I am crying. And YES! This is why some women cry at weddings, these an a thousand other reasons you will have the joy to discover.

Congratulations! So how are your abs now!?!?! Not even a thought, right? I don't mean to be hard on you. Truly. I am grateful for your words, for the reminder of where I have been and could be in a moment even today. I am a woman. And I will always be that. Like you though - I love Jesus - and like you - I refuse to be a woman who lives for any other god.
Thirteen years ago I shopped for my wedding gown with the very same thoughts you are having today. And as you said, wanting to be beautiful for him - is not sin. But also as you have so wisely stated - what we DO with that desire can in fact become a big, fat idol that is so hard to carry - and one that we were never meant to lug around. I always want my husband to look to me and desire ME. But beauty has limitations. It can't, nor was it ever meant to be - everything. Your physical beauty will indeed bring pleasure - but it can never bring joy. Joy is something that is far. far. deeper. more lasting. more real. Joy can be felt in plenty and in want, in sickness and in health; it can be felt in the skinny of your work out power moments and the plump of your possible post pardum slumb. Joy can be found in the creases of your marriage wrinkles and the scars, and in the freshness and lightness of your youth. Joy is beyond the exterior - always. What I have come to realize - not by ease - not ever by ease for me - is that I can miss joy when I am consumed with myself. When your fiance tells you that you are beautiful - do you say - "thank you." Or do you begin to think what must I do to remain like this? What do I have on that I can repeat? What must I do tomorrow to maintain what he sees? Ugh! The agony of that drill!
Psalm 119:96 "To all perfection I see a limit, but your commands are boundless." This writer - probably well aquainted with beauty - knew with His heart where beauty dwells...God's WORD! Woman - we must pursue THAT beauty with all of our efforts that are wasted on skin and hair and clothing. So what does that look like, right? Where is the balance of being healthy - and beautiful in 2012 without carting around an Aprhodite idol??? You ask your God! He is directing YOUR heart always. You sense what is sickness to your spiritual health right now. You already know sumpthin' just ain't right... God will teach you truth in His Word to help you realize what is LIFE - what is the full life you were meant to realize every single day. I do work out - I want to be strong and healthy - however, I do not EVER want to spend more time on the exterior than I do on the heart of this temple. And that "time" does not only include work out time - but thought time. Ouch. We need to train ourselves to take captive every thought of "ME" - and to consider the other heart in front of us - to see him, to see her - without seeing ourselves and how they see us...ya know what I'm sayin'???
My dear friend, - I know you know this...from the heart everthing we are - overflows -. I don't want that overflow to be the gutter ugliness of SELF. I want that overflow to be the fountain beauty of God's TRUTH. It will gleam from our eyes and and glisten on our lips before a world we get to love! - and oh girl! to our husbands!!! PLEASE do not get discouraged in your struggle to level an idol.I'm so excited for you!!! I mean - so few of us are brave enough, strong enough - and humble enough to admit our struggles, ya know? So thank you!!! Your struggle is beautiful! That is God's glory in you. Look around you, my friend, and pray for the women who are with you. Encourage them with the truths you are learning about the beauty that is God's Word. The Word of God is limitless - inexhaustible - never fading - and free. But God's Word is not for the weak hearted - it will work you out! Hard! Not Jillian Michaels hard - I'm talkin' Resurrection Jesus Hard! COME ON!!! God's Word is BEAUTIFUL! AND POWERFUL, and it will not fail anyone who wants to be trained by it to level Aphrodite, or any other idol for that matter. Come on with that, Wonder Woman! BATTLE ON!!!
Enjoy your engagement days. Ask God for what He would have you learn - one Word perhaps - to study and focus on as you prepare to be a wife - as you prepare to love one man. For life. oh my heart, oh my heart!!! So exciting, dear one!!! Every blessing!

"Your statutes - (not beauty) - are my heritage forever - THEY are the JOY of my heart. MY heart is set on keeping your decrees to the very end." Psalm 119:11-12
LOVE!!!
Laura
Some pre-marriage reading suggestions - besides your personal Bible study time, and I am suggesting a word study...like look up the word beauty in your concordance and study what God has to say about it...Books that I would suggest: For Women Only by Shaunti Feldhaun, The Power of a Praying Wife by Stormie Omartian, Counterfeit Gods, by Tim Keller, Love as a Way of Life by Gary Chapman (author of The Five Love Languages - also great!), So Long Insecurity by Beth Moore - every woman should read this! Those should keep ya busy for awhile. Don't forget to breathe between the lines...and know I'm with you!!!